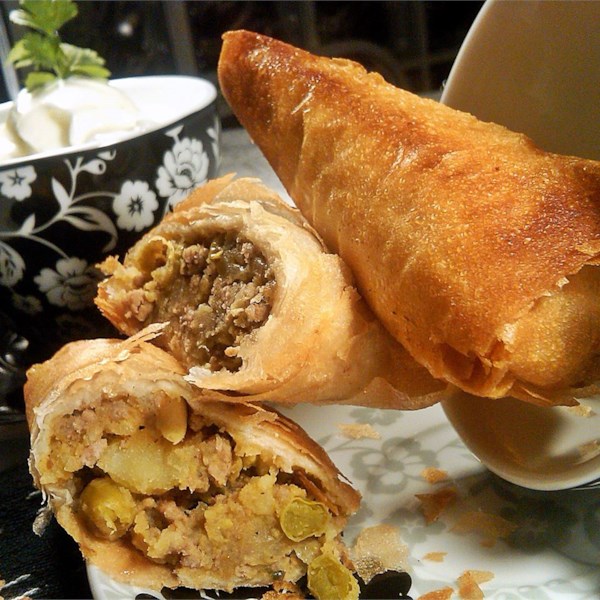 Ingredients

2 large potatoes, peeled
1 cup frozen peas, peeled
2 tablespoons vegetable oil
2 large onions, finely chopped
1 pound ground beef
4 cloves garlic, crushed
1 tablespoon minced fresh ginger root
2 tablespoons chopped fresh cilantro
2 tablespoons chopped green chile peppers
1 quart oil for deep frying
Samosa spice package from our Spices section

For the wrap:

2 cups of plain flour
¼ tsp salt
4 tbsp of oil/ghee
4 tbsp of water
Instructions

Bring a medium saucepan of lightly salted water to a boil. Stir in potatoes and peas. Cook until potatoes are tender but still firm, about 15 minutes. Drain and set aside.
In a large saucepan over medium high heat, heat the oil. Brown cumin seeds and bay leaf from the Samosa spice package. Mix in onions and ground beef. Cook until beef is evenly brown and onions are soft, about 5 minutes. Mix in garlic, fresh ginger root. Season with the rest of the spices from the Samosa spice package. Stir in the mashed potato mixture. Remove from heat and chill in the refrigerator for 1 hour, or until cool.
Mix flour salt oil and water until it forms a dough. Add tiny bit more water if needed. Knead the dough for about 10 minutes or until it is smooth. Put it in a plastic bag and set aside for 30 minutes or longer, in the refrigerator if possible.
Heat oil in a large, heavy saucepan over high heat.
Mix cilantro and green chile peppers into the potato and beef mixture. Take a walnut-sized portion of dough, and then roll it out to about 4 inches across. Place approximately 1 tablespoon of the mixture onto the wrap. Fold it into triangles, pressing edges together with moistened fingers.
In small batches, fry until golden brown, about 3 minutes. Drain on paper towels and serve warm.
Tips

This recipe is based on an original recipe on allrecipes.com with very good review. I've changed the wrap to make it more authentic based on many feedbacks from the viewers.
The original recipe call for 21 ingredients which I found daunting. Hopefully with the spice package you found on this site will make the prep work will easier.